Source: Edmonton Journal
Date: 2017-04-29
Like most of you, I was up late last night. This entire city is sleep-deprived. But I don't know about you, I've never been so willing to be so tired! I eventually dragged myself out of bed, and with my Oilers-loving Kid in tow, we managed to trudge down to the local Starbucks, where I try to perfect the conversion of caffeine to hockey column. And so, with your kind help, faithful Cult of Hockey and Twitter followers, here is what I have come up with: As the Edmonton Oilers trans
Continue Reading
Source: Oil On Whyte
Date: 2017-04-29
Edmonton Oilers goaltender Cam Talbot may go under the radar, but he is probably the biggest reason why this team is making a playoff run. In Game 2 against the Ducks Friday, Talbot made 39 saves on 40 shots. He was incredibly between the pipes, sprawling across, displaying quick reaction time and acrobatic movement. He […] Edmonton Oilers: Cam Talbot Coming in Clutch -
Continue Reading
Source: Edmonton Journal
Date: 2017-04-29
It seemed like such a simple question: What's the best hockey book in your book store? Manager of Audreys Books, Kelly Dyer, purses her lips, tilts her head and thinks for a few seconds, letting her gaze slip to the front window display on Jasper Avenue honouring the Edmonton Oilers and their NHL playoff run. "Oh, that's not an easy question to answer," she says with a smile, as a bright orange sign with the words 'Go Oilers: You're #1 in our books' moves ever s
Continue Reading
Source: Oilers Nation
Date: 2017-04-29
Despite the hangover induced fog I woke up in, I started thinking about the strange trip it's been to go from watching a team that was perennial bottom feeders to one that is only two wins away from the Western Conference Final. What a ride. TAKE THE MONEY AND RUN .@AnaheimDucks Thanks for paying Pat...
Continue Reading
Source: The Oilers Rig
Date: 2017-04-29
Yesterday's postgame article was on the shorter end, so I figured it is probably worth while to delve a little further into the victory. Despite the Oilers not playing their best game, there is still plenty to takeaway from the win, and a lot to consider (and be excited about) going forward. So with that in mind, let's take a look at some of the biggest takeaways from the Oilers 2-1 win over the Ducks in game 2. 10 Takeaways 1. We talked last night about how good C
Continue Reading
Source: The Hockey Writers
Date: 2017-04-29
Hate to be the guy who said I told you so but I told you so. It may not have been pretty but thanks to a quick start, another huge goal from the power play and a stellar performance from netminder Cam Talbot, the Edmonton Oilers are heading home with a commanding 2-0 series lead over the Anaheim Ducks and have yet to play a complete 60 minutes. Isn't playoff hockey great? At this time of
Continue Reading
Source: Oilers Nation
Date: 2017-04-29
Hey, remember that time I tweeted out that I'd get a celebratory tattoo if the Oilers made the playoffs? I do, 'cause it's on my foot now.  If the Oilers make the playoffs this year I will get some sort of celebratory tattoo. I regret this tweet so much less than shaving my head. —...
Continue Reading
Source: CBC Sports
Date: 2017-04-29
Cam Talbot has helped the Oilers to a 2-0 lead in their second-round series against t
Continue Reading
Source: SportsNet
Date: 2017-04-29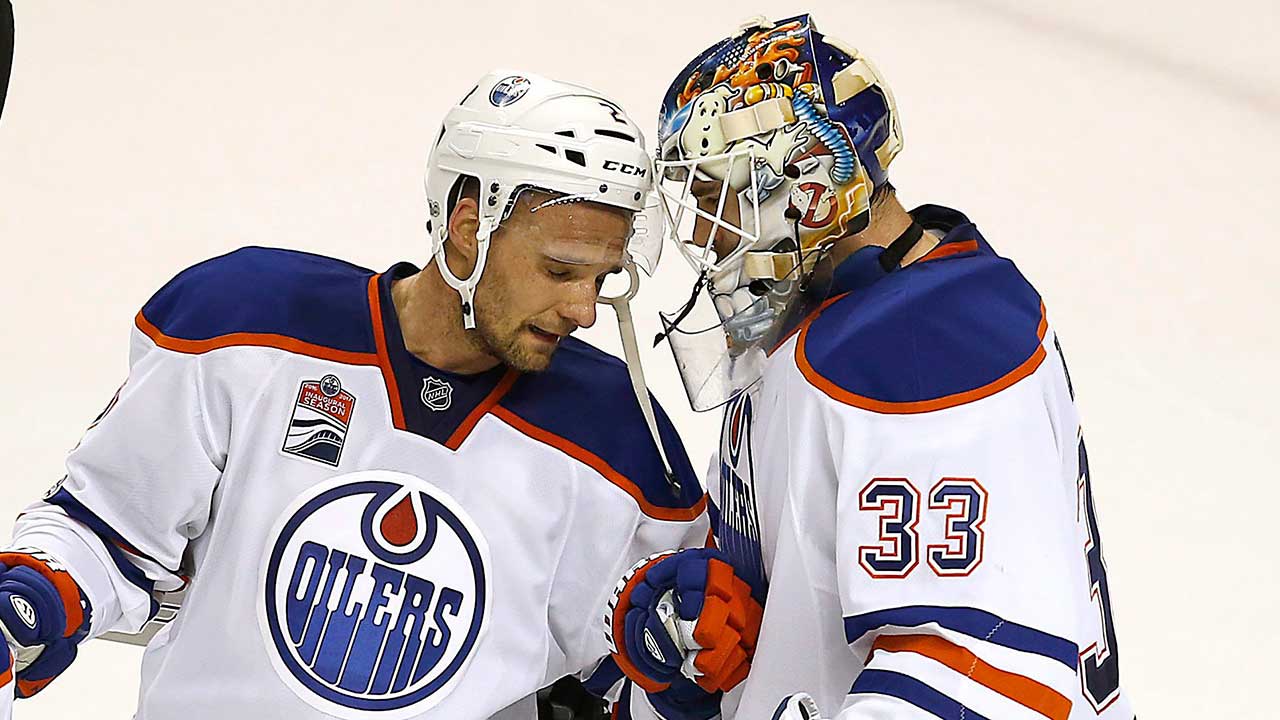 ANAHEIM, Calif. — Grant Fuhr was standing in the hallway near the visiting dressing room at Honda Center wearing a gray Edmonton Oilers hoodie when Wayne Gretzky walked up. "Let's go meet Cam," Gretzky said. It was the kind of attention Oilers goalie Cam Talbot has earned but hasn't necessarily received during a statement-maki
Continue Reading
Source: Lowetide
Date: 2017-04-29
I knew it would be that kind of game, but didn't think these Oilers would win it. The Anaheim Ducks bring their own special brand of hell, kind of like Jack Nicholson in The Shining. You just pray you don't end up like Scatman Crothers and it would be nice if Jack Torrance doesn't get out of the hedge maze. And damned if these Oilers did just that!
Continue Reading
Source: Edmonton Journal
Date: 2017-04-29
ANAHEIM – None of it matters if Cam Talbot steals another one. Or two. The matchups. Ryan Kesler and Connor McDavid. Ryan Getzlaf and whomever. The injuries. The physical battle. The faceoffs. Oh, those faceoffs. Several of those salient factors have already favoured the Ducks, by a rather massive margin. They won 64 per cent of the faceoffs on Friday. They outshot Edmonton 40-23. And they're down by two games. After a 5-3 loss in Game 1, they were beaten 2-1 by Talb
Continue Reading
Source: SportsNet
Date: 2017-04-29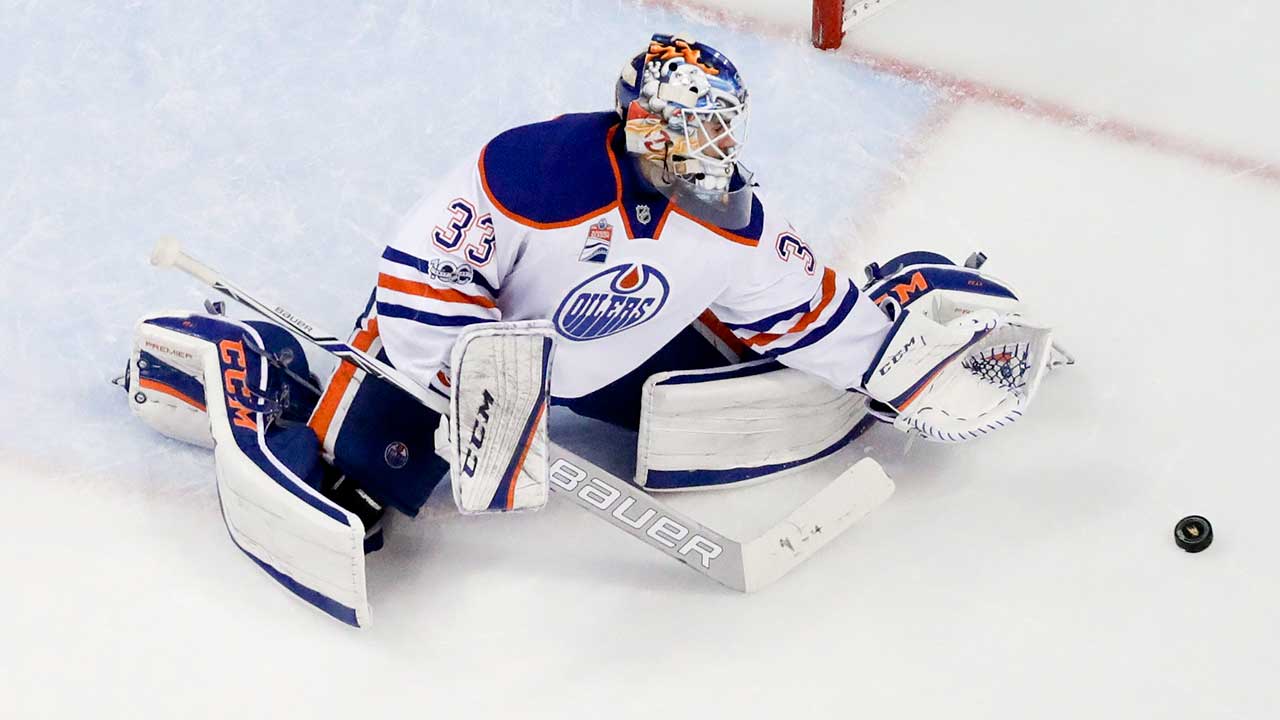 ANAHEIM, Calif. – This is something that Edmonton Oilers coach Todd McLellan would probably rather not have known, but he took a huge gamble on Cam Talbot this season. He didn't like ba
Continue Reading