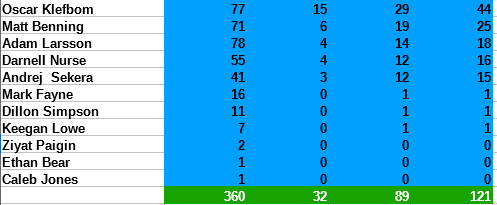 Mark Fayne has been a good soldier since the arrival of Todd McLellan as Oilers' coach. Fayne's limitations made him an uncomfortable fit for the head coach, who faded and then demoted him. Nothing personal, just business. With the Oilers down a quality veteran for a portion of the season, is there some daylight for Mark Fayne? Could we see him in the lineup in 2017-18? (End over End). MARK FAYNE 2015-16 5×5
Source: Lowetide
Date: 2017-08-19
Continue Reading
Paul Coffey can't be credited with revolutionizing the way the position of defence was played in the NHL because Bobby Orr more than took care of that a generation earlier in the late-1960s and early-1970s. Coffey simply picked up the torch and skated with it like nobody else could with the Edmonton Oilers after knee...
Source: Oilers Nation
Date: 2017-08-19
Continue Reading
Since Draisaitl's contract signing, one thing I have heard a lot of people say is that this spells the end of Nuge [probable] in Edmonton, especially because he's been something of a disappointment [FALSE! SLANDEROUS!] It's easy to see why this latter point is argued though – as far as genos and apples go, it hasn't been
Source: Oilers Nerd Alert
Date: 2017-08-19
Continue Reading
After a 77 point season, what to expect from Leon Draisaitl? Today's roundtable installment is all about what Leon Draisaitl's best years could look like. Leon finished with 29 goals and 48 assists for a 77 point total this past season. Now that he's under contract for the next eight years, wh
Source: Copper N Blue
Date: 2017-08-19
Continue Reading
The Edmonton Oilers locked up the NHL's deadliest duo to long-term deals worth $21 million combined. Though it is nice to see Edmonton able to hold onto two of their top players over the next eight years, it will lead to some dilemmas with the salary cap. With a handful of free agents to re-sign […] Edmonton Oilers: Nugent-Hopkins Will Have to Battle Salary Cap -
Source: Oil On Whyte
Date: 2017-08-19
Continue Reading
There comes a time in every man's life where he must prove himself. This applies to Darnell Nurse. He is ready to take on a bigger role on the Oilers' blue line in 2017-18.
Source: The Hockey Writers
Date: 2017-08-19
Continue Reading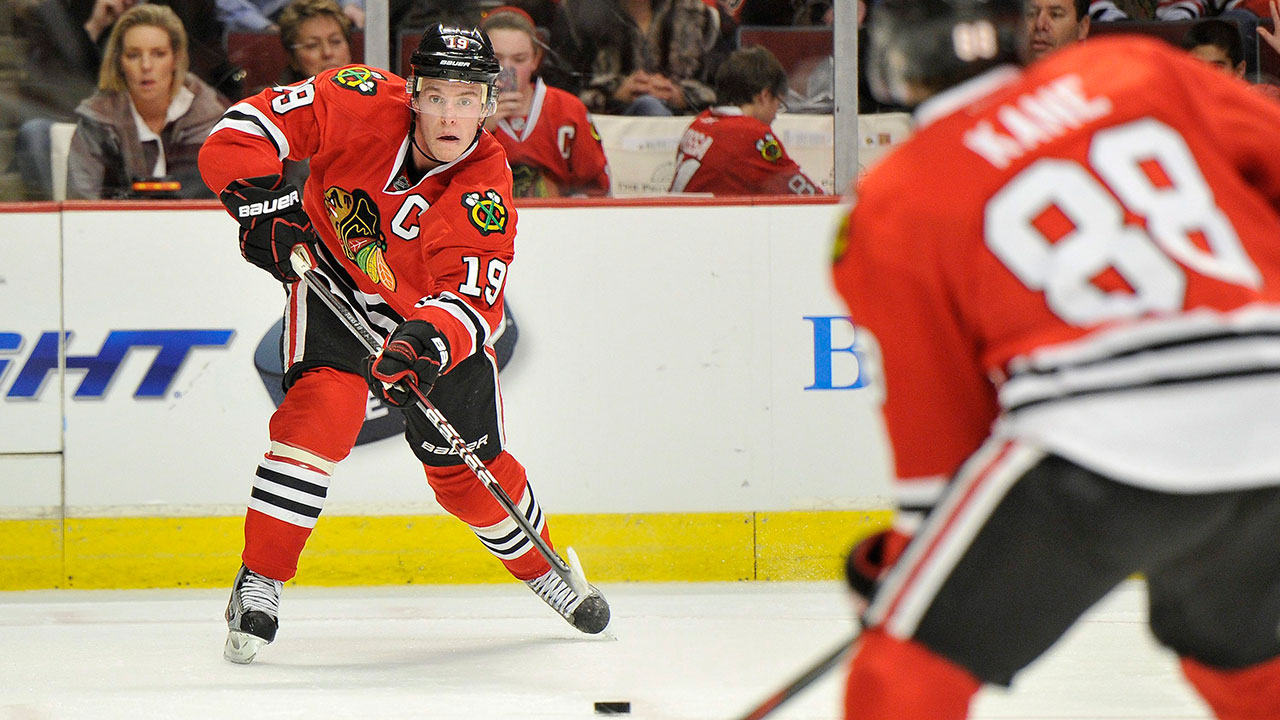 It's been a busy off-season in Edmonton, what with general manager Peter Chiarelli dishing out $168 million to star duo Connor McDavid and Leon Draisaitl. The latter forward got his number on Wednesd
Source: SportsNet
Date: 2017-08-19
Continue Reading
The Oilers' number one slides up from 7th to 3rd in this year's edition of the Top 25 under 25. Oscar Klefbom is a revelation. The Oile
Source: Copper N Blue
Date: 2017-08-19
Continue Reading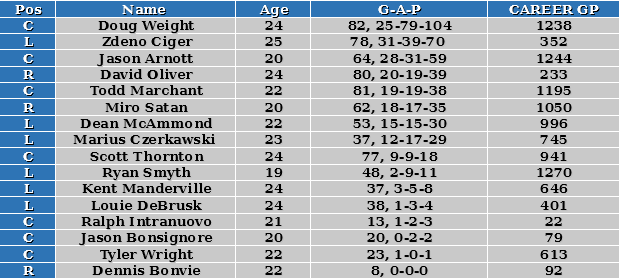 The 1995-96 season had a major impact on the decade that would follow for the Oilers. Ron Low, Glen Sather, Bruce MacGregor, Barry Fraser and the others involved in procurement and evaluation had managed to gather a lot of young talent. The key of course is to keep the right people, send away players who are duplicates in exchange for useful parts, and push toward Stanley. How important is it to keep the right players? OILERS 1995-96 FORWARDS 25 & UNDER
Source: Lowetide
Date: 2017-08-19
Continue Reading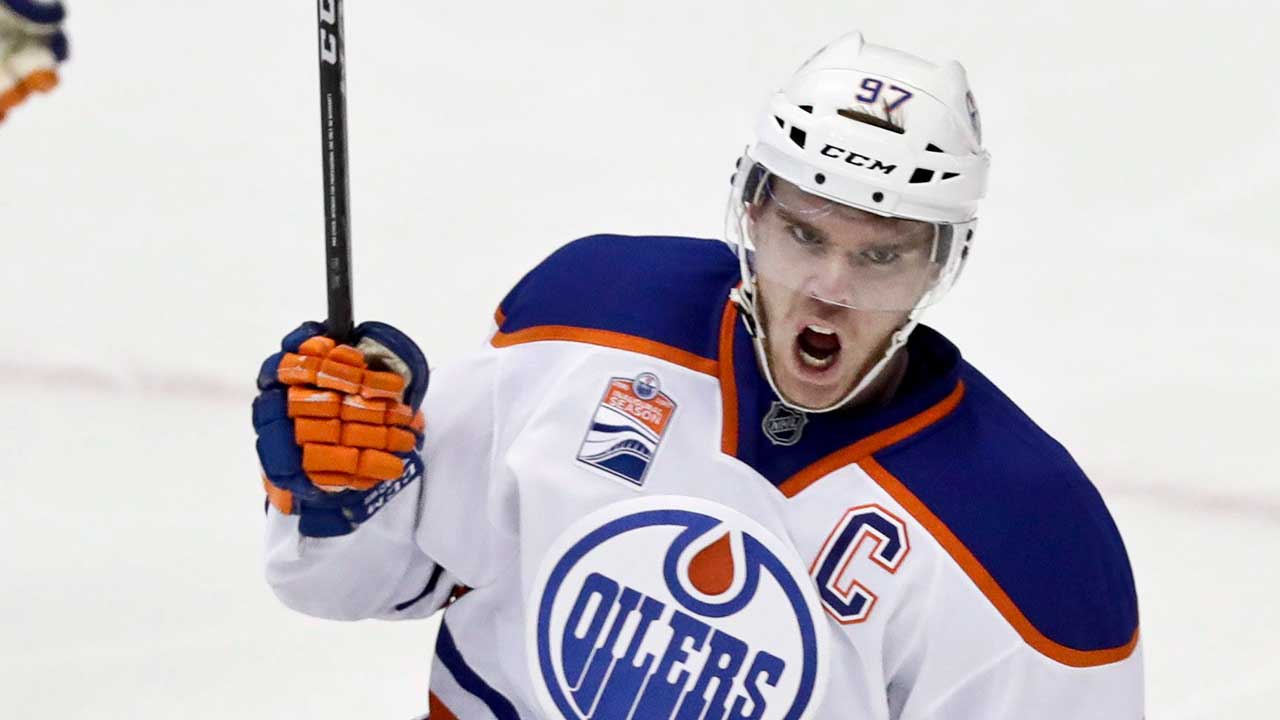 Over the next 100 days, host Steve Dangle will break down the top 100 moments of the NHL's centennial season. Check out the entire series on Sportsnet's YouTube page and subscribe for more exclusive content. No. 52 A broken stick couldn't stop Edmonton Oilers captain
Source: SportsNet
Date: 2017-08-19
Continue Reading
Connor's signed. Leon's signed. Everything's in place for 2017-18, but there's a cap crunch ahead. It took some weeks longer than one would have liked, but the Oilers and
Source: Copper N Blue
Date: 2017-08-19
Continue Reading
2017 Edmonton Oilers prospects #13 Stuart Skinner Previously: N/A, drafted #78 overall in 2017 NHL Draft One of the more curious and interesting sequences of Draft Day 2018 occurred in the back half of the third round, when Edmonton Oilers traded two picks they had acquired from other teams
Source: Edmonton Journal
Date: 2017-08-19
Continue Reading