I've been zipping around the Al Gore over the last 24 hours, reading fan reaction to the Leon Draisaitl contract signing. I have discovered one thing: I'm too old for this. Folks, it's a contract. Leon Draisaitl's agent got him a good deal, and the Edmonton Oilers have a fine young player under contract for...
Source: Oilers Nation
Date: 2017-08-18
Continue Reading
The Edmonton Oilers ensured the future of their organization this offseason by signing two of their biggest players to long-term deals. Edmonton re-signed Connor McDavid to an eight-year, $100 million deal to kick off the summer, making him the highest paid player in NHL history. And, on Wednesday, the Oilers locked up Leon Draisaitl to […] Edmonton Oilers: Evaluating the Sala
Source: Oil On Whyte
Date: 2017-08-18
Continue Reading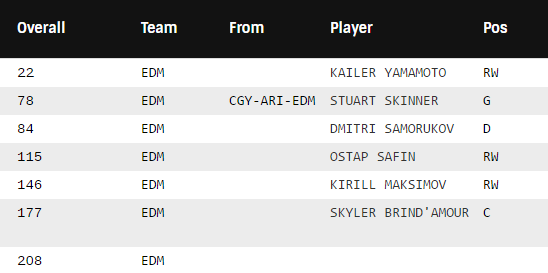 If you and I are sitting in a coffee bar discussing the Oilers and trades come up, the first player mentioned will be Ryan Nugent-Hopkins. Sure as hell. RNH isn't going to be a trade deadline deal, unless Edmonton endures a tragic season. So, what will Peter Chiarelli have to trade at the deadline? Let's have a look.
Source: Lowetide
Date: 2017-08-17
Continue Reading
The rugged blueliner ranks just outside our top-5 My first reaction when I saw Adam Larsson's name on our prospect ranking list was "How the hell is he still under 25?" One quick google, and I realized it was true. The big, bearded blueliner i
Source: Copper N Blue
Date: 2017-08-17
Continue Reading
Yesterday, Leon Draisaitl jumped on Oilers Now to talk about his new contract that will keep him in Edmonton for the next eight years. Let's break it down. After waiting around for what seemed like an eternity before Draisaitl inked his new deal, Oilers fans started to wonder what was going on. Was there trouble? Was...
Source: Oilers Nation
Date: 2017-08-17
Continue Reading
The Edmonton Oilers ensured the future of their organization this offseason by signing two of their biggest players to long-term deals. Edmonton re-signed Connor McDavid to an eight-year, $100 million deal to kick off the summer, making him the highest paid player in NHL history. And, on Wednesday, the Oilers locked up Leon Draisaitl to […] Edmonton Oilers: Evaluating The Salary Cap
Source: Oil On Whyte
Date: 2017-08-17
Continue Reading
Leon got a big new deal yesterday. The Copper and Blue talk all about it. The wait is over. Leon Draisaitl got a new deal yesterday, and it was a big one. His new contract is scheduled to pay him 8.5 million dollars over the next e
Source: Copper N Blue
Date: 2017-08-17
Continue Reading
The Blues' offense ranked 12th in the NHL in 2016-17, but with the depth of talent St. Louis has built, they could be set to ice one of the most fearsome attacks in the league. If one were to poll fans right now about the league's best offense, it'd be safe to suggest the Washington Capitals, Pittsburgh Penguins, Dallas Stars, Tampa Bay Lightning and Edmonton Oilers would rank among those most feared.  Understanding why that's the case isn't all too difficult, ei
Source: The Hockey News
Date: 2017-08-17
Continue Reading
Bryan Trottier has six Stanley Cup rings so he knows what it takes to win, and he especially likes what he sees inside the Penguins dressing room. The other day, I had the pleasure of chatting with New York Islanders legend Bryan Trottier for an upcoming special issue we're putting together (sorry, no spoilers here). During the course of our conversation, we got on the topic of winning championships and it probably will not surprise you that a man who hoisted the Stanley Cup si
Source: The Hockey News
Date: 2017-08-17
Continue Reading
Hometown Player Makes Good on Rookie Season Landing just outside the Top 5 in the 2017 Top 25 Under 25 is Matthew Benning who checks into the list at number seven. Benning's exceptional play and ability to earn and keep a spot on the Oilers NHL roster his first season after leaving the NCAA are just a few of
Source: Copper N Blue
Date: 2017-08-17
Continue Reading
The Edmonton Oilers and their fans can breathe a huge sigh of relief after the team announced they had finally signed restricted free agent Leon Draisaitl to a contract. The deal, as you've probably read, is an eight-year deal worth an $8.5 million AAV. This ends months of speculation of a predatory offer sheet or trade. Remember, earlier this summer, that there were rumors of a potential $
Source: The Hockey Writers
Date: 2017-08-17
Continue Reading
Oilers now banking on internal improvement This in from Oilers GM Peter Chiarelli, talking to Reid Wilkins of 630 CHED Inside Sports about the Leon Draisaitl signing, sounded like a GM who was done his work for the summer.  Asked if he was going to make any other moves before the season, Chiarelli said, "I'm thinking it's going to be pretty quiet." 
Source: Edmonton Journal
Date: 2017-08-17
Continue Reading